Speedo Cable Routing - 1934 and 1935 Cars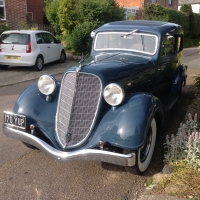 Please may I have some guidance, please ?
Out in my '34 last Sunday, my speedometer needle suddenly dropped to zero.
The speedo has been rebuilt recently and had a new cable at the same time and the set-up has been working OK.
Investigating the problem, I found the cable all chewed up at the transmission end with no damage at the dashboard end.
The output on the gearbox turns freely and I can turn the speedo needle by hand using the spigot on that end of the cable.
This is the third time in my ownership of the car that I've had a cable fail in exactly this way and the only reasons why that I can think of are -
1. I'm using the wrong cable.
2. I'm not routing it correctly and that's causing it to kink and jam up.
I've been using a Ford 1932-48 (passenger car) cable which is the same length as the original equipment and is listed as a substitute in interchange manuals - is it the correct type ? If it isn't what type should I use ?
Please can someone show me the correct route for the cable (I've simply been putting it where it seems logical for it to go) ? 
Comments